Hello, Jeff Helvin here with Ballen Brands and today I wanted to takea quick look at a new feature in the later WordPress versions that you might see on your dashboard when you log in called Site Health Status.
We get a lot of questions on these because it does indicate, oftentimes that there are certain issues that we want to have resolved and of course those of us who are keeping our websites up to date and want to make sure we don't have security challenges things like that, we're paying attention to stuff like this so I just wanted to address some of these topics because not all of them are actually resolvable challenges.
Grow Your Business with an Affordable Website | Schedule A Consultation With Ballen Brands
Site Health Status
I want to discuss that a little bit more in detail. The first thing that I'm going to mention is that when I first logged in it said to take a look at these eight items and so this doesn't necessarily always refresh every time you log in. It may or may not be the correct number of items but if I go ahead and click on the site health screen I am going to see the current number of items.

You'll see it's broken up into critical issues and recommended improvements so again if we look at what this means to us a critical issue would imply something that's more serious and of course may be more detrimental or could be more detrimental to the website whereas the recommended improvements are just kind of like best practices.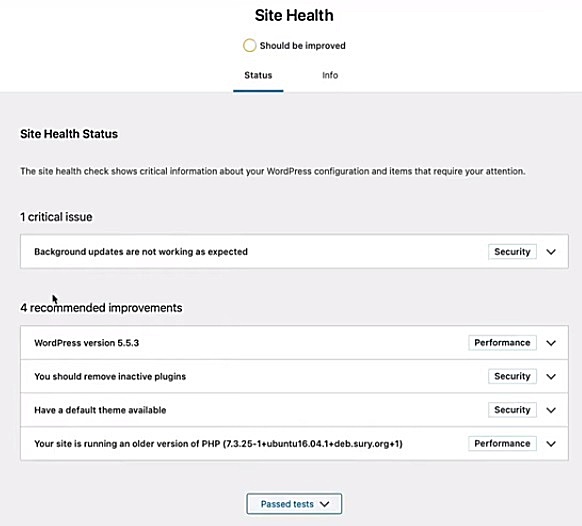 If you can take action on them great may as well go ahead and do that if you can't take action on them then it's just something that's going to continue to show up there but may not have necessarily an adverse effect on the website so in this particular case we're going to go ahead and take a look the first one it says is one critical issue and it says background updates are not working as expected and it indicates that it's a security type of issue.
What I can do is I can click this little arrow and it'll tell me here background updates ensure that WordPress can auto-update if a security update is released for the version you are currently using now this is a nice feature however sometimes it conflicts with other hosting platforms that also have security features.
For example, the host that we are hosting, we can do hosting as well ourselves and the servers that we use have automated security checks and things of that nature so because of that we can't have background updates on the website itself because we already have background updates going on on the server so there would be a conflict between those two if they were running so even though this says it's a critical issue it's not actually an issue per se because the particular hosting platform that we are on already solves this.
Critical Issue
This is just something that's going to look that's going to continue to show up here but isn't an actual challenge if you're not sure on your end by all means reach out to the host. Find out and the questions but it doesn't necessarily mean that there's a big issue that you need to have resolved. If you are watching this and you are a client of Ballen Brands and we are hosting your website then essentially you can go ahead and ignore this particular critical issue because it is solved otherwise and not actually an issue as reported.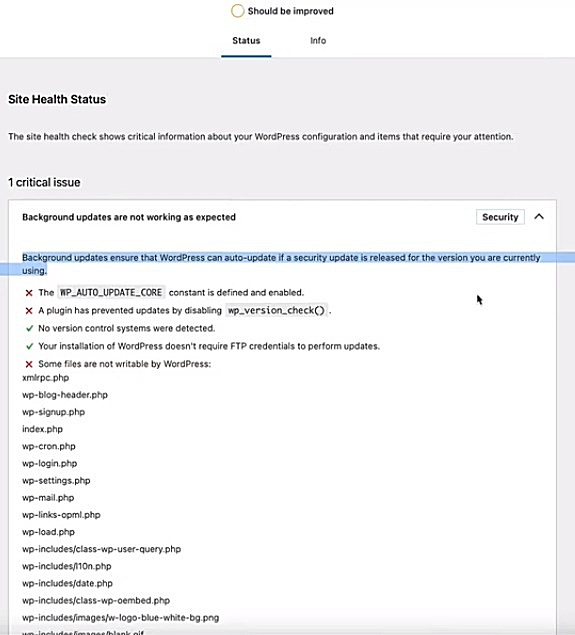 Choose Your BREW [Ballen Real Estate Websites]
Recommended Improvements
The next step we have the four recommended improvements so we're getting this one a lot too where it says WordPress version 5.5.3 that's a performance issue so it's indicating that there's a new version of WordPress so now here it's actually then indicating we're unable to check if any new versions of WordPress are available so really the issue isn't because we actually are updated to WordPress 5.5.3 that's not technically the issue. The reason why it's coming up it's because they're unable to check for new versions so again this could be a result of the server or the hosting service that you're on so check with your hosting provider to find out if this is really something to be concerned about it.

Next, it says you should remove inactive plug-ins it could be a security issue plug-ins extend your site's functionality so it tells you more about that but it says also your site has four plug-ins waiting to be updated which is great I can see that number right here and then it says the site has four inactive plugins so inactive plugins are a target for potential hackers.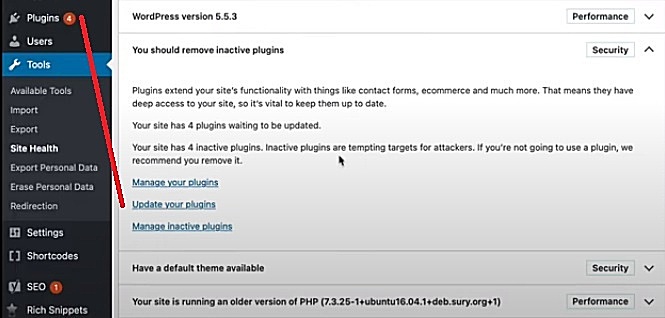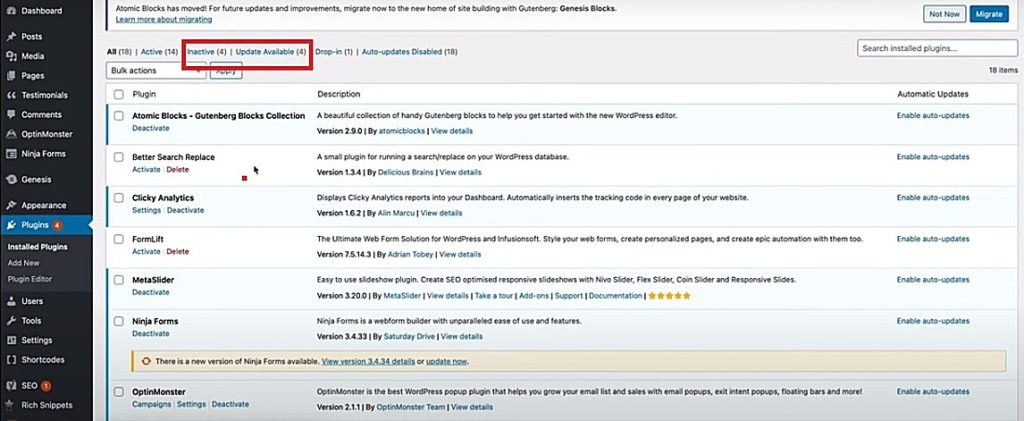 So if I go over here and actually open up my plugins then we'll see that these here there's a better search or replace a form lift shortcodes ultimate extra shortcodes and a WordPress importer and these are all made inactive so because I'm not using these it's a better practice just to go ahead and delete them if I need them I can always import them again later but if it's not something I'm actively using then it's better to just not have them installed at alls o this does help not only from a security standpoint but also will remove additional codes from the website.

Now because I'm in here and I do see that there are a few versions new plug-in versions available I'll go ahead and click on the update now so that I can see that those get updated so again no so we don't have security risks in case some of those updates to the actual technology itself so that there are not security issues.
Now I've went ahead and updated those as well so going back here going back down the list have a default theme available now this has caused a lot of confusion because the website WordPress uses themes and although there is a theme installed it's saying there's not a default theme now when usually you set up a WordPress website a brand new WordPress hosting plan with a website by default there is a theme installed usually one called 2023 or 2021.
There are some different themes 2016 there are some different themes that are available through WordPress and then usually from there you'll install your own theme or a new theme ora different one that you want and you will effectively have both themes in there so when I click on manage your themes open that in a new window usually here I would have another you know could be through some people have four or five themes in here because they've been changing themes on their website now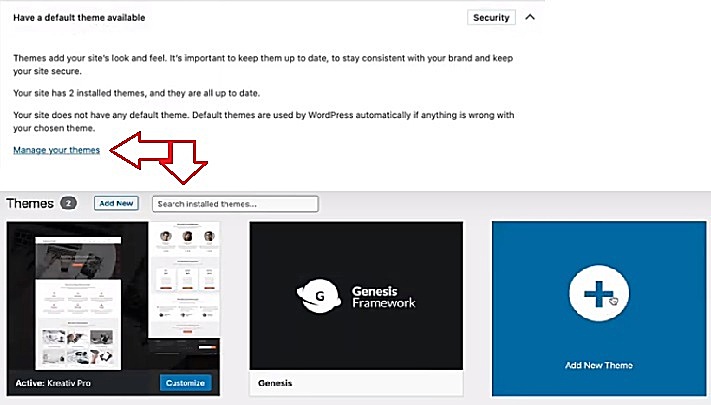 Our recommended practice is to not have themes installed that you're not using kind of like plug-ins if you're not going to use the theme then having it installed. It is only potential risks security risks things like that because if the themes are here and active then the code still exists on the site even though you're not technically using it. We have removed those themes so it's saying default theme is not selected and the purpose of a default theme it's telling us here is that default themes are used by WordPress automatically. If anything's wrong with your chosen theme so if this theme that I actually have active here on our website were to fail for some reason there's no backup.
Basically, the pages won't load now in our case that's a risk we're willing to take that just means that the site wouldn't display now the content would display but to be honest, that would be better than maybe not knowing there's an issue and having a random theme that doesn't show the rest of our content displaying on the page so it is again considered you know a recommended improvement but it's not necessarily a big challenge now again it's saying it's a security issue but really it's not a security issue per se because if the theme just didn't work or something was wrong with our original theme it simply just wouldn't display the website. These are intended to help us but sometimes they don't give us quite the right details
Lastly, here I have one that says your site is running an older version of PHP now again this is something a lot of times it's going to explain to you what it is PHP is the programming language used to build and maintain WordPress newer versions of PHP are faster and more secure so staying up to date will help your site's overall performance learn more about updating PHP now most website owners that are not website developers are going to be a little confused by PHP and the hosting platform and WordPress versions and the theme versions and all these different things.

If you are hosting I do recommend that you reach out to your hosting provider and, this is not something that's familiar to you and ask them basically what's going on. Now a lot of times you're hosted on a server with a lot of other websites as well and the server itself is what needs to be upgraded, it's not just your website it can't just update PHP version just on your website alone it affects all the websites that are on the same particular server.
Now that being said there also a concern sometimes of updating too soon because if you update the PHP version but the WordPress version is a different one then there could be conflicts so a standard practice for large website hosting companies is to make those updates automatically and to make them at a certain time so this is another one of those where if you're hosting with us.
For example, our particular hosting solution we do the PHP updates for you but not necessarily on the timeline specifically what WordPress is suggesting it's just saying something's out of date you should update it but it doesn't actually know how it will overall interact or relate to your actual website or if it's going to break anything or if it's consistent with the right versions of WordPress and so forth so this might be a little over your head and that's okay again talk to your hosting company ask if you were to reach out to us if you're a client of ours and you ask us I'm gonna tell you that exact thing absolutely we're gonna upgrade you to the latest version of PHP as soon as the most stable version is released and it'll all be automatically updated.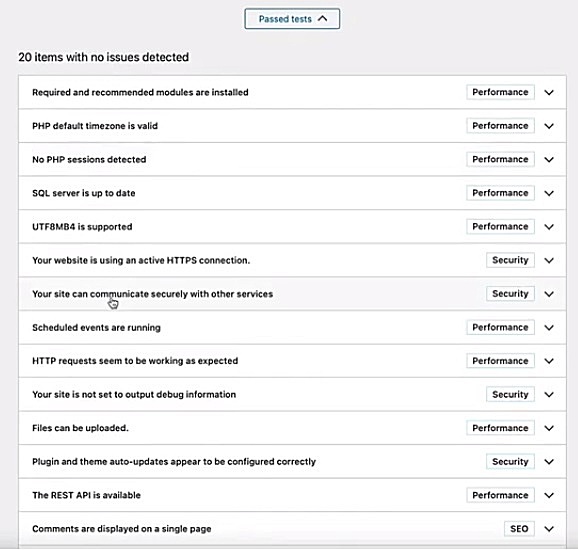 There's nothing more that you need to do and that is ultimately how that's going to work soum that is a quick breakdown you're going to see a lot of different things there are other things that'll check you know tests and things whether or not PHP is missing altogether or uhyou know text link counter isn't working you know those types of things it's it'll just part of what it's testing for you as kind of a standard status but again I don't want you to be concerned if there's a challenge but at the same time it's always good to question and ask you want to make sure your site's up to date and running well.
I just like to explain that sometimes what you see here doesn't necessarily have the impacts that it implies it may have so again I encourage you to reach out to your web host you know provider ask them these questions not you know this isn't necessarily something you always want to take into your own hands in case there are any challenges there but if you are hosting with us or have any questions about hosting with us, by all means, please reach out to us at Team@BallenBrands.com.
Summary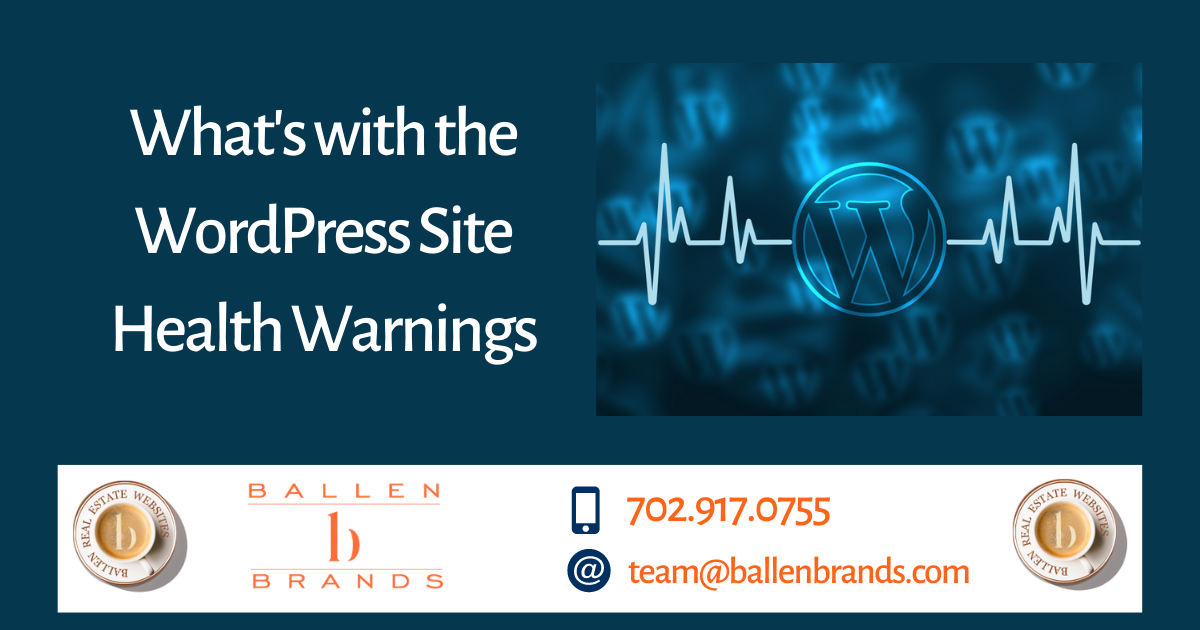 Article Name
What's with the WordPress Site Health Warnings?
Description
Hello, Jeff Helvin here with Ballen Brands and today I wanted to take a quick look at a new feature in the later WordPress versions that you might see on your dashboard when you log in called Site Health Status.
Author