In this tutorial, Lori Ballen shows IDX Broker users with real estate agent websites how to pull fields into advanced search features in order to build laser targeted lists.
Sign Up for IDX Broker and Save $99 on Your Sign Up Fee
This post contains some affiliate links for your convenience.  Click here to read my full disclosure policy.
Click Pages to Find Advanced Search
Log in to your IDX Broker's dashboard. From the main menu, select Designs. From the secondary menu, select Pages.

Edit IDX Broker Advanced Search Fields
From the list of pages, find Advanced Search. Look to the right and select Fields, which is under the Customize column.

Choose Property Type
You'll see a list of property types under Step 1. Choose the one you wish to edit. Click View Settings for Step 2.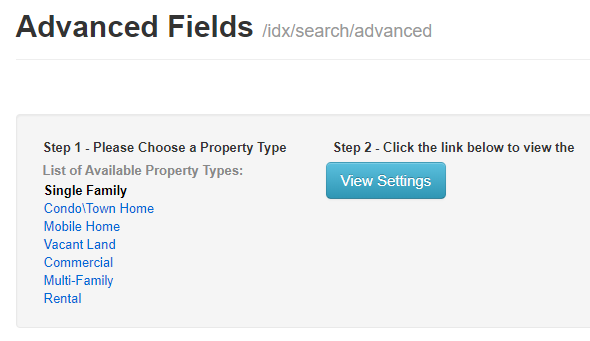 Suggested: How to Create a Property Carousel Widget in IDX Broker
Add Fields to Property Type Layout
You'll see two columns, Left Side and Right Side that contain fields already available in the Advanced Search options. To the right of those boxes, there is a scrollable section called Available Fields. Add your choice(s) by clicking the + sign next to the field name. For example, if I want to add 55+ Community, I will click the + and that field will show up on the Right Side.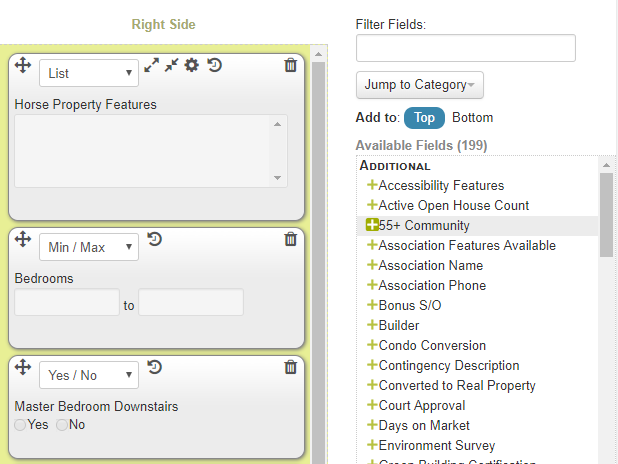 Select Field Options
Once you've added the field to the side, you'll want to choose the option needed for the drop-down menu. You may choose to List all criteria, which will populate a complete list of options for the searcher to select from when creating their advanced search. Other options include Yes/No, Min/Max, and Keyword. In some cases, you can only choose a Yes/No option. That would be for something like Pool or Master Bedroom Downstairs. In some cases, the Min/Max works on options like Bedrooms and Bathrooms.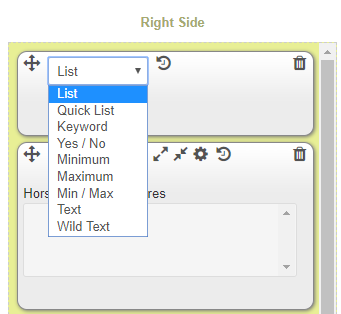 Sorting Fields & Organization
When adding fields, the sides can get cluttered quickly if you're not purposeful. You can drag the boxes up and down the sides, move them from one side to the other, and organize them according to use. For example, you may want all search fields related to schools in the same area. If you have building related search fields, you may want those together.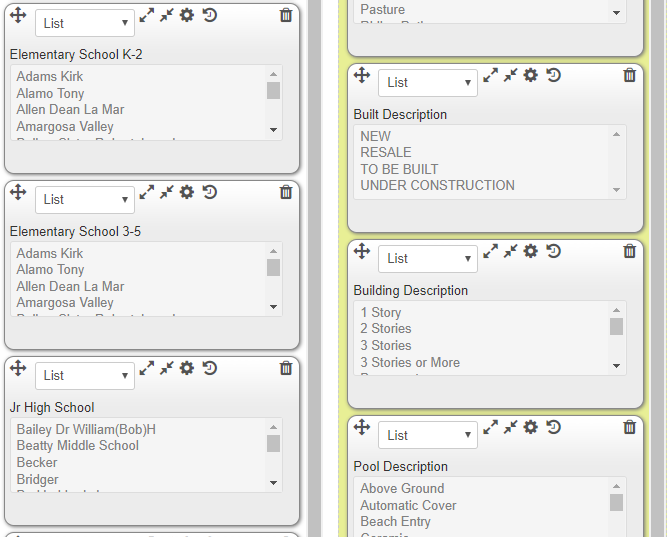 Creating Laser Focused Widgets
Once you've added the fields needed to your Advanced Search option, you'll have access to those fields when creating widgets within IDX Broker using the Advanced Search. To learn more about Creating a Widget and Placing the Widget on Your Real Estate Agent Website, click here.
Got Questions? We can help!
If you have questions about IDX Broker, we are happy to help. Contact us by email at team@ballenbrands.com or call us at 702-917-0755. Need your own real estate agent website that was designed for success? Give us a call and see how you can get your BREW [Ballen Real Estate Website] set up.
Recent Posts
Jeff Helvin, owner of Ballen Brands gives his end of year business tip to help with taxes.

What a Real Estate Website Should OfferWhat Quality Information You Can Offer Be The Expert in Your Local Market Jeff Helvin with Ballen Brands discussing what makes a real estate website valuable today. I recently discussed why it's still important to own your own website, and also reviewed what a website should include, regardless of […]

Hey everybody, Jeff Helvin here with Ballen Brands and I wanted to jump on here and make a quick video based on a discussion I was having with Lori Ballen, who is my sister in case you didn't know. Video Transcript I run operations for the business and because we run the business together, and […]
Summary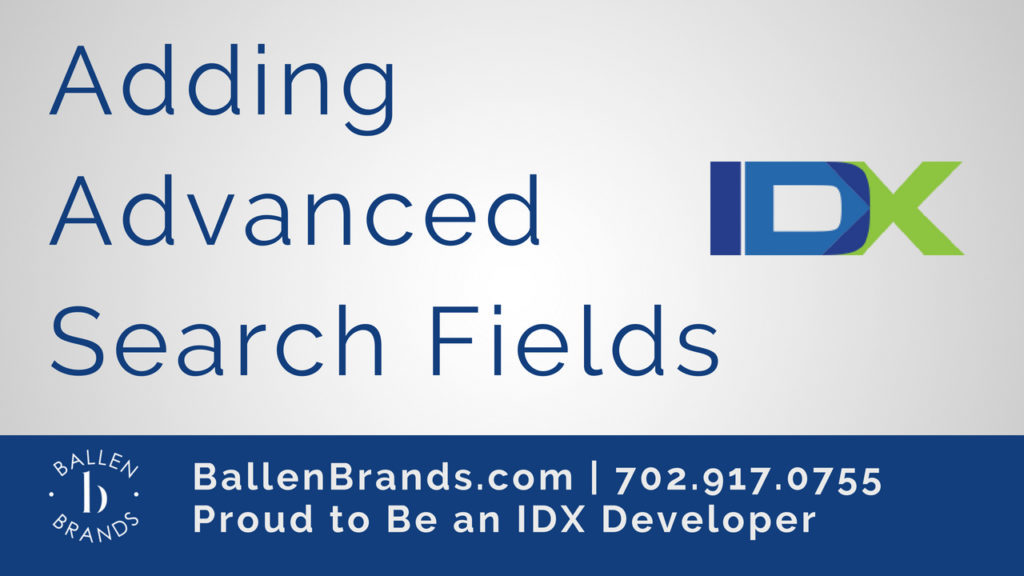 Article Name
How To Add Fields to your Advanced Search in IDX Broker
Description
In this tutorial, Lori Ballen shows IDX Broker users with real estate agent websites how to pull fields into advanced search features in order to build laser targeted lists.
Author
Publisher Name
Publisher Logo