What is Orphaned Content?
For many of us that create blog posts and web pages, it's easy to forget about past content. This is especially true for those of us that focus on publishing fresh, new content regularly.
Orphaned content, as defined by YOAST (WordPress SEO), is content that has no other pages on the same website linking to it. This doesn't necessarily mean it doesn't have any traffic coming to it.
Register for Lead Generation Webinars with Lori Ballen
It can be assumed though that for some reason, the website owner doesn't find it valuable enough to refer to in their internal linking strategy.
It's not just about consuming content, but sharing it, passing it on, and adding to it. -@ariannahuff
Orphaned Content, Why do we care?
If we have content that is on our website we aren't linking to, we could be losing a valuable reference.
If we have content on our website that is not providing value at all, and is looked at as a non quality page by Google, it could devalue the work we've done on quality pages.
While Google ranks each of our pages individually for a particular query (keywords used to search) on the SERP (Search Engine Results Page), it also views overall site factors such as trust, authority, unique, low spam score etc., and how well it provides a quality user experience.
When it crawls our pages, we want Google to zip through and digest as much great content as it can.
We don't want anything to get in the way of our positive quality signals.
Therefore, by noting which of our old content is orphaned, and then which of the orphaned is low quality, we can make the decision to redirect, remove, or revive.
How to Handle Orphaned Content
The Keyword tool we use in this video is called SEMrush, and you can get a [eafl id="11566″ name="SEMrush" text="free trial here."]
In October, 2017, Yoast added a new feature to it's premium account.
The SEO focused WordPress plugin added a feature that allows the website owner to view which content has no internal links, therefore deeming it orphaned.
How to use YOAST Orphaned Content
1 Update your Yoast Plugin by finding the plugin panel, scrolling to Yoast, and clicking update now

2 Next, head over to your POSTS or PAGES panel in your WordPress Account. At the top, you'll find the filter called "orphaned content" with a ? next to it. Click that.

3 Next, select the "Click Here" link so YOAST can index your links.

4 Once your links are updated, click on the Orphaned Pages filter to see a result of orphaned pages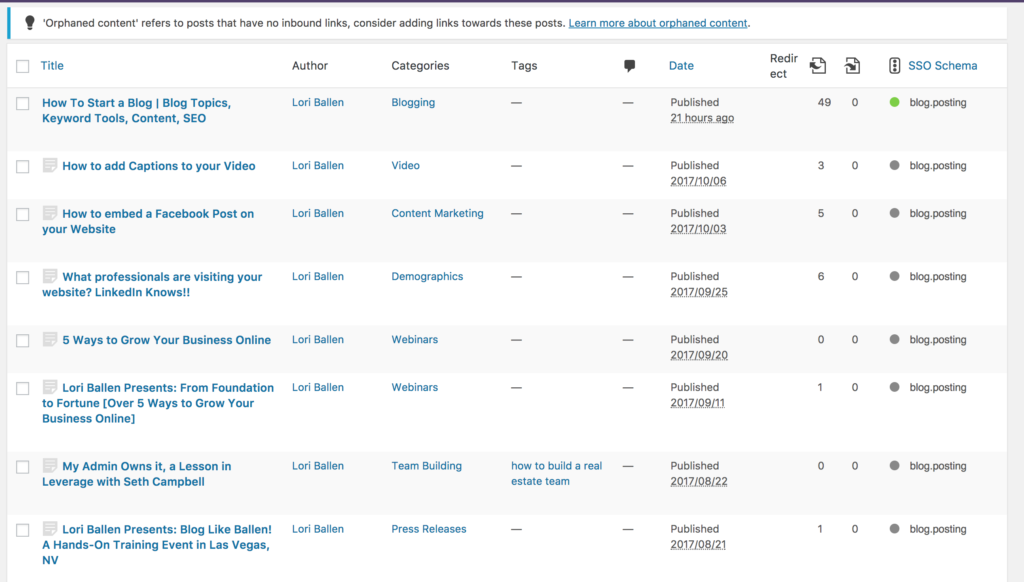 5 Choose a page to review and decide if you want to remove it, redirect it, or revive it.
To Remove it, simply move to trash. Yoast will then ask you if you want to remove it or redirect it. Choose remove. This will create a 410 Redirect which essentially tells the search engines to remove it from their index. The trash file actually stores your content in case you want to restore it later.You only want to remove content when you know it has absolutely no value to someone searching online.
To Redirect it, move it to the trash and now select Redirect. In the box that appears, type in the NEW page you want to send this old page to. This will now redirect users who would have landed on the old content to a new page.A redirect is valuable when you know you have created a 2nd piece of content you would rather the users go to. The link equity will flow from the old page to the new page and Google will eventually discard the old URL preferring the new one.Be sure your new page is relative to the old page.
To revive it, update the content. You want to revive your content when you know it can be valuable and there is no blog post or webpage created more recently on your site for that topic. Be sure it's quality, and valuable content that would be of great use to the visitor. Add images, video, links.
Now find other pages on your website that relate to this page and link to the revived page. This will remove it from the abandoned content section.
6 Watch for Yoast Updates for future abandoned content

Is it Time for a New Website?
Ballen Brands offers a special development of WordPress websites designed by Lori Ballen, a top real estate agent, digital marketing strategist and SEO who generates leads from the web.
Built with an SEO focused strategy, this lead generation system offers cornerstone content, a drag and drop home page featuring reviews, product and service pages, calls to action, table of contents, top blog posts, custom templates for frequently used blog posts and pages, on the dash analytics and more. 702.917.0755. Ballen Brands is your lead generation company