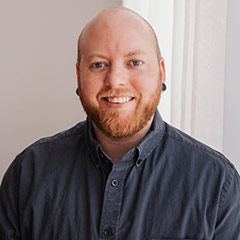 Kaleb Helvin serves as the Project Coordinator for Ballen Brands, a role he handles with dedication and pride. His tasks include planning and overseeing projects to ensure their timely and thorough completion, with client satisfaction at the forefront.
Before Ballen Brands, Kaleb worked as a personal assistant for a bookkeeper/auditor. His main tasks included coordinating appointments with clients across states, outlining what tasks they needed to complete, handling time-sensitive documents, reaching out to coordinate the appropriate parties when needed, and overseeing each client project to ensure timely completion.
Kaleb is described as being a dependable, hard worker with acute attention to detail. His compassion and empathy give him the ability to connect with the needs of others, and the desire to make a positive difference in all that he does.
For more than a decade, Kaleb invested himself in his community's children, working as an early education teacher. From there, as his skills and vision further developed, he went on to work as an assistant teacher at a school for children with special needs.
Kaleb and his wife, Alex, dedicated themselves to fostering two young children, which they did for four years before successfully adopting them both. Recently, Kaleb's family was blessed with the birth of twins.
A vegetarian, Kaleb and his family also donate regularly to non-profit organizations that support animals in need.
From working with children to having children of his own, Kaleb's love and loyalty for family grew exponentially, leading him to the natural evolution of working with his father, Paul Helvin and uncle, Jeff Helvin, in the family-owned and operated small business, Ballen Brands.
When not working, Kaleb prefers to spend his time outdoors, whether taking the kids for a walk, going for a light hike, or simply laying in the hammock out back where he can connect with nature and his environment.