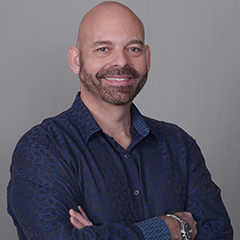 Paul Helvin started his career in the US Army, where he developed skills relating to teamwork, team building, group success mentality, and how to care for his fellow brothers as part of a unit. In the Army, he learned the values of being part of a team and not just an individual, a lesson he's carried with him throughout his life.
Paul served time in the Air Defense Artillery where, during his tenure, he received an Army achievement award for performing his duties at a high level.
After the military, he spent 30 years in the sales and marketing industry, which helps him in his business today.
He's proud to run a family-owned and operated business that connects his family members together in creative projects on a daily basis. While he and his siblings grew the company from its roots in Las Vegas, Nevada, he now operates his part of the company from his childhood home, Seattle, Washington.
One of his goals, through Ballen Brands, is to support environmental projects such as ocean cleanup and animals in need. Paul donates monthly to Hope for Paws, Ocean Conservation Namibia, The Ocean Clean Up, as well as Only One, and is focused on contributing to the well-being of the planet.
When not running Ballen Brands, Paul's passion is being an audiophile. He shares his passion for audio equipment and music with his followers on his YouTube Channel, VPCONCEPTS, to spread his knowledge and love of the audio industry with others.