Hello, Jeff Helvin here with Ballen Brands and today, I want to show you how to get text notifications of new leads that are being generated from your various marketing efforts.
Click Here to Get Help with Zapier
Zapier Set Up
We're going to use Zapier to make this happen and in this particular case let's say I already have a Zap set up for leads that are coming in from an IDX service for a real estate agents or maybe leads coming in from Facebook Ads and what we can do here is actually integrate Twilio which is a text messaging platform, like a programmable text and voice system.
Twilio on its own is a little complicated to use but when we hook it into a third party like Zapier, or we can use it in other CRM like Infusionsoft, then it's not quite as complicated.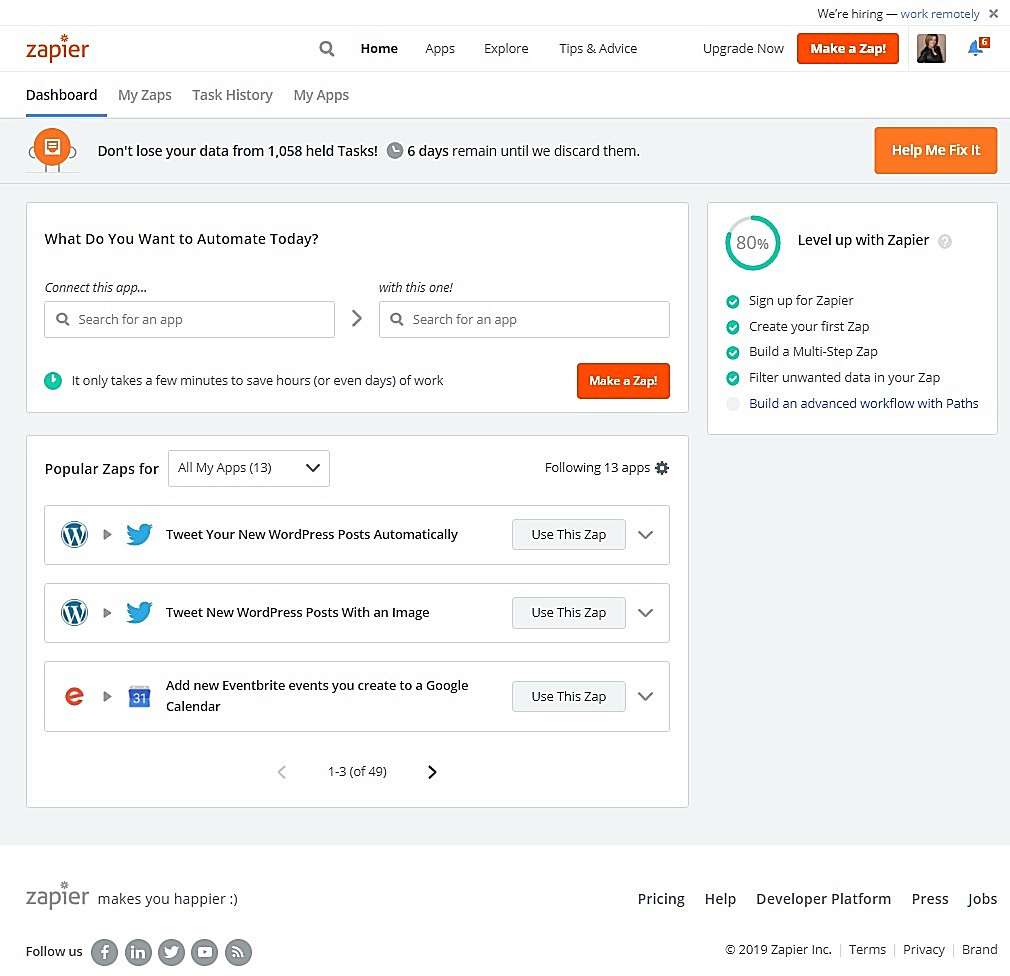 Schedule A Consultation With Ballen Brands
Connecting the Twilio App
So here we have logged in to Zapier already and what we want to do is we're going to actually connect the Twilio app that we have set up already and make sure that's integrated here. So I'm going to actually click on my apps and you'll see here we already have a few set up for a client that we're working with and I want to add Twilio.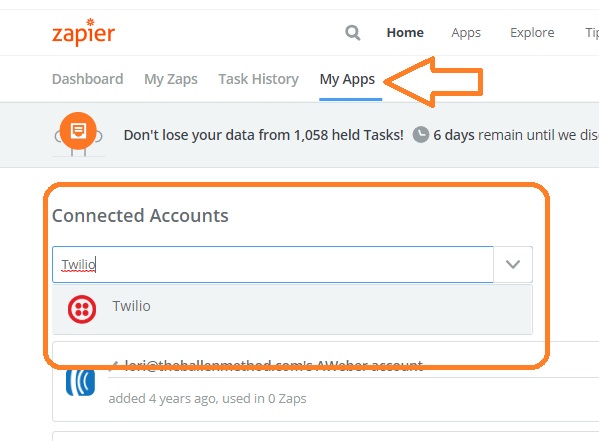 So I'm going to select Twilio and it's going to ask me to connect it now. I'm logged into Twilio as well so this here it's saying login your Twilio account and find the API credentials on this page. I'm already logged in so it's asking for the API credentials, so if I go back to the Twilio screen, your account ID is there and we're going to paste that in. Then it asks for the auth token which you have to click to view. Once I have the auth token I can paste in, I'm going to hit yes continue.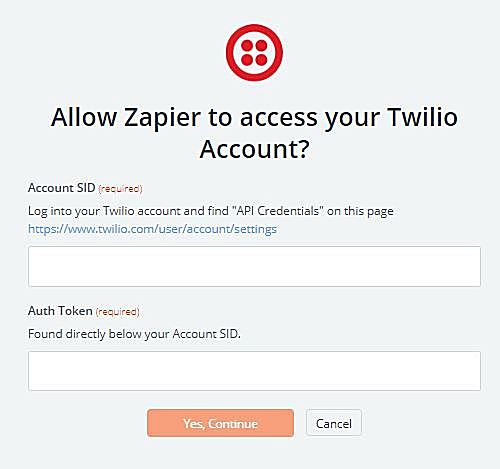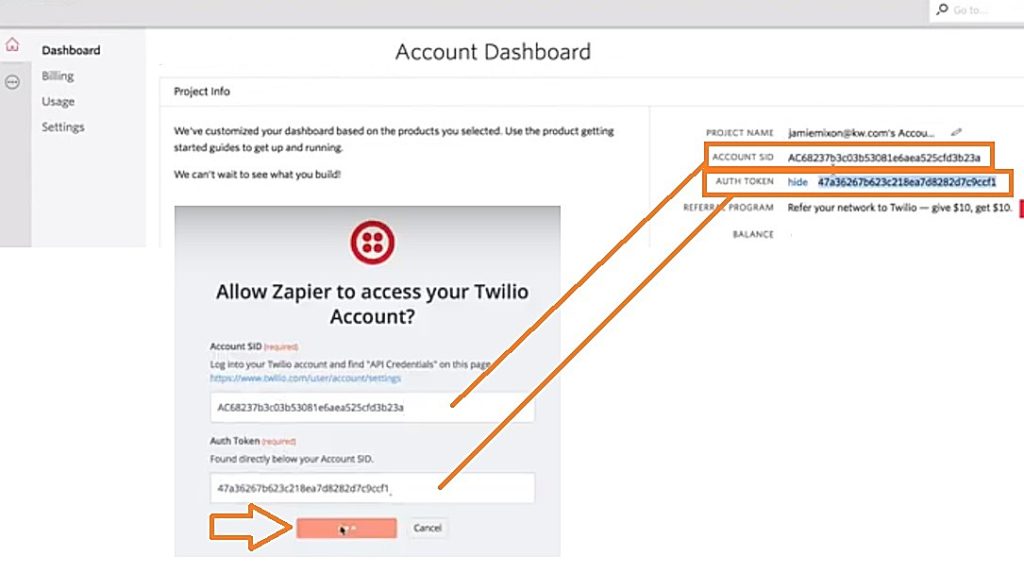 Don't Want to Do This Yourself? Let Us Do It For You!
Adding the Twilio App to an Existing Zap
So now Twilio is one of the options that I can use to connect my different zaps. If you already have a zap set up one little hint instead of going and setting up a new zap completely different that says "when it comes in from here then send it there" or "send me a message" we can actually just go to your existing zap. So if I already have a Zap set up and I want to edit that Zap I already have when a new lead comes in from my IDX send it into in this case Keller Williams Command and then I can click the little plus icon and then I can type in Twilio.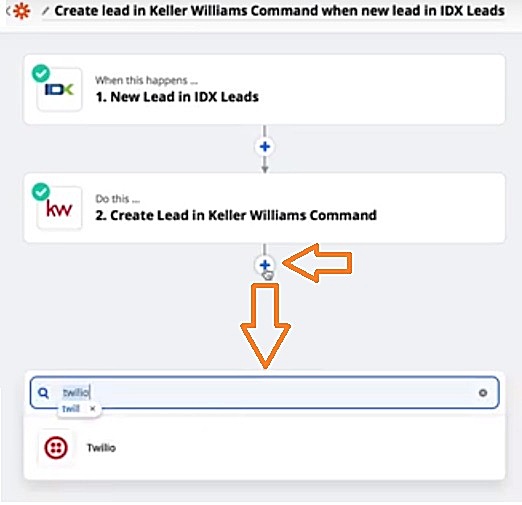 Related: How to Integrate IDX Broker Leads to KW Command through Zapier
How to Send SMS in Twillo
Now I can actually choose to use the Twilio app and what I want to do is I want to send an SMS message and hit continue.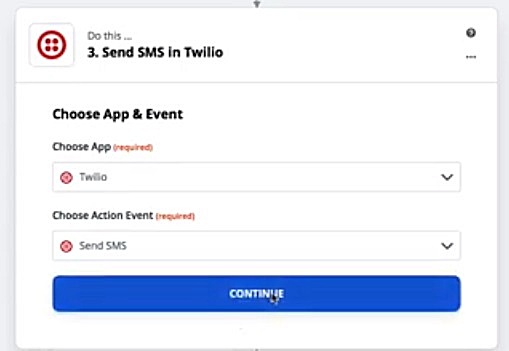 The Twilio account I'm adding the one that of course that we just selected hit continue.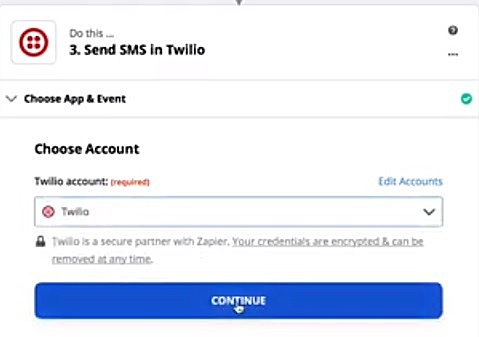 So the "From Number" is actually the Twilio number that has been set up in your account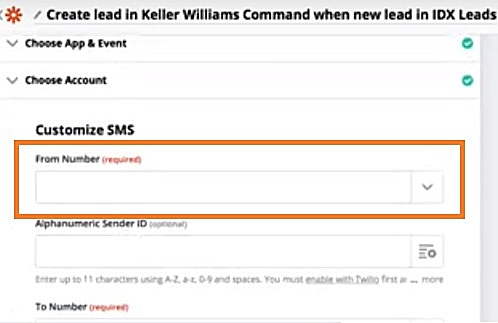 If you go back to the panel on the left and click the three little dots you'll scroll down and click on phone numbers.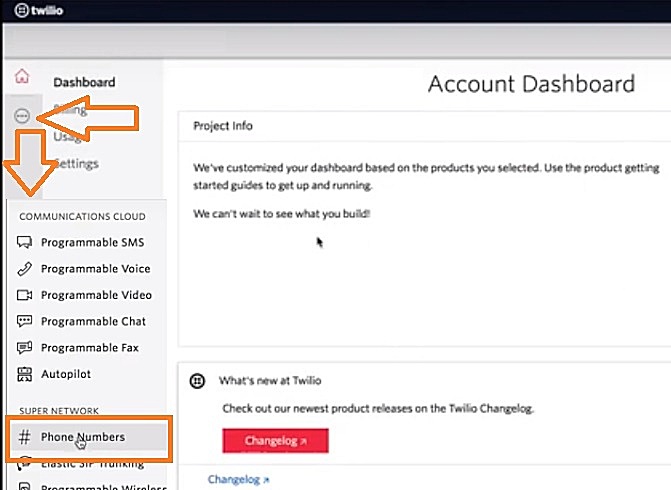 Now this would have been what you set up your Twilio count originally so this here is our phone number that we want to take over to the Zapier.
So the from number is going to be this number. Now if you had some set up this particular number was set up through a different service or through a third-party services, so it wasn't able to actually find them but in this case we do have the number here it just wasn't able to pull it up automatically but if you set this all up on its own through Twilio then you would be able to see your number here as well.
Schedule A Consultation With Ballen Brands
The next number would be the number that we actually want to send them to the text message, now keep in mind here that we are putting in if this could be that says include the country code everything but numbers will be removed and leading plus will be added so I'm just kind of actually adding it already, basically it's doing a plus and then the country number which is one in our case for the United States and then in putting in the number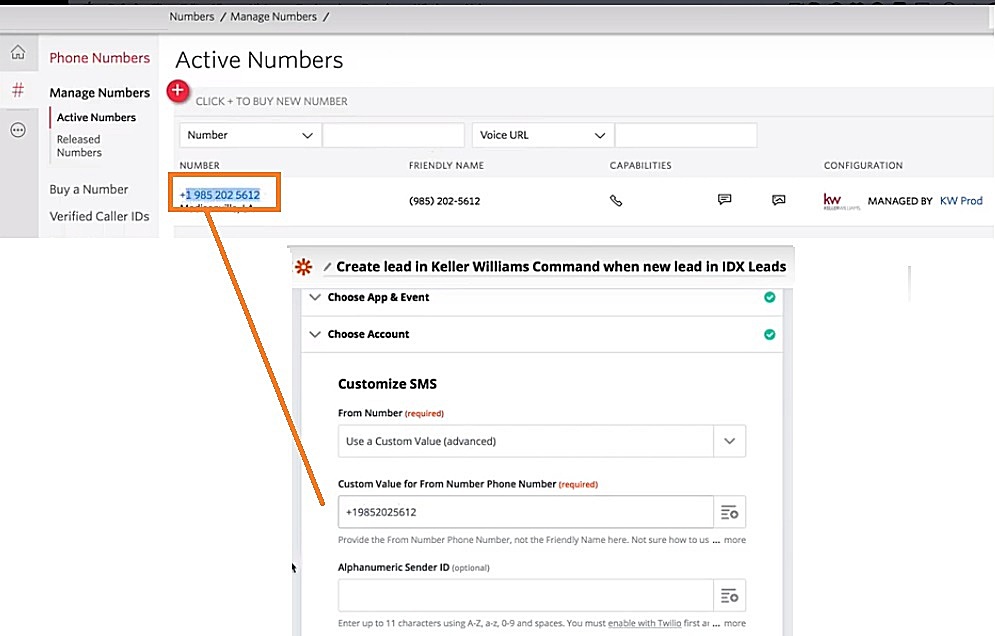 So then we're going to send the message what do we actually want to send in there. So what's cool about this is we're able to then pull in details from the actual thing so in this case I'd like to do a new lead names and then we can actually pull out, in this case, it's in IDX Broker so a new lead name and then first name, last name, has just signed up please call her at and then for collecting phone numbers of course then we can put in the phone number her email address is maybe you want to follow up with both so you can also put in her email address actually in this case we don't know if it's our he or her so we'll put there please call them at this number and their email address is this so if we wanted to we can also attach media URL send large messages, yes or no these are some different options here.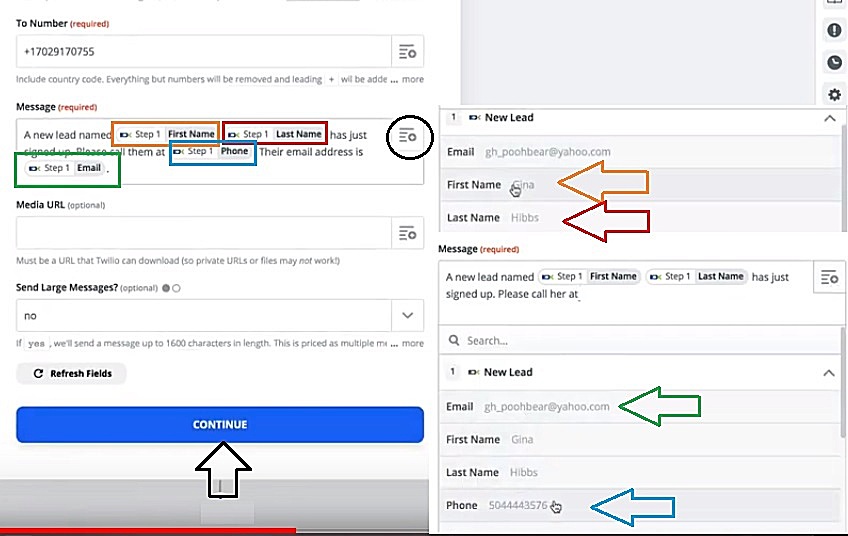 Twilio SMS Costs a Fraction of a Penny
Now in this particular case just to kind of let you know in Twilio every text message it gets then it's about a fraction of a penny I think right now it is 0.75 cents, so 3/4 of a penny I believe is what the current rate is so in this option you know to keep in mind obviously if you're going to send it to multiple people we could set up multiple zaps and have text messages go to multiple people so in this case, we're just going to go ahead and leave it there hit continue.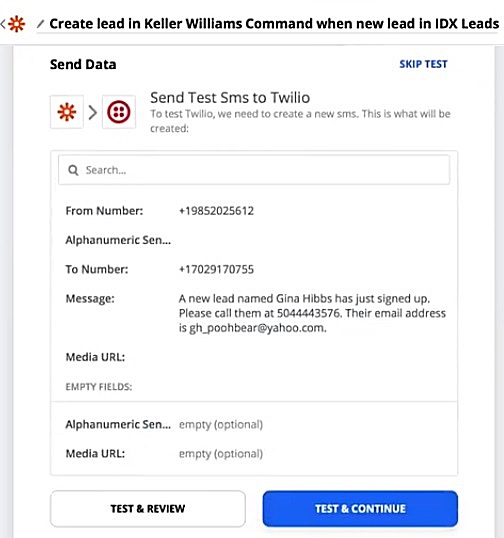 So this tells us it's going to come from here to there and this is a message that's going to go and so we can go ahead and test and continue so if you have any questions on this that's it that's as far as we needed to go here this is setting up a text message.
Let Us Help You Turn On Your Zap!
Have Questions? Ask Ballen Brands!
If you have any questions, by all means, please reach out to our e-mail at Team@BallenBrands.com.
Summary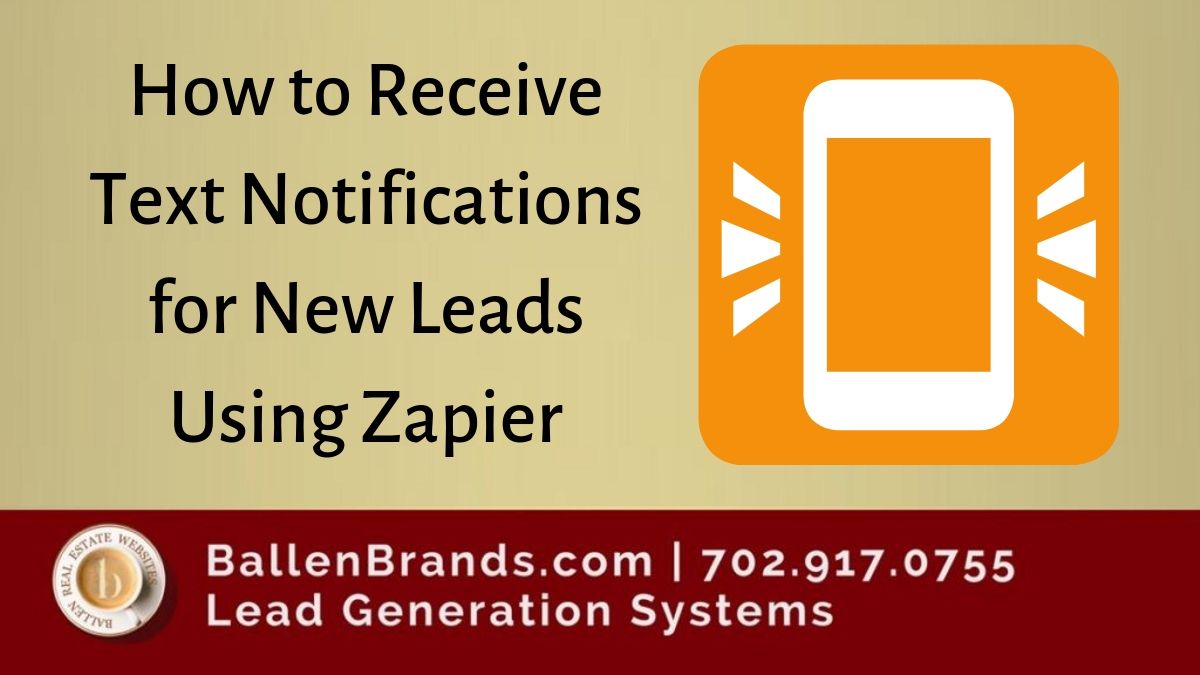 Article Name
How to Receive Text Notifications for New Leads Using Zapier
Description
Jeff Helvin here with Ballen Brands and today, I want to show you how to get text notifications of new leads that are being generated from your various marketing efforts.
Author
Publisher Name
Publisher Logo