Websites are an integral part of business marketing. But how much does it cost to have a website? How much should you plan on spending on your next site design? The short answer is that there's no magic number or formula to determine the cost of a website. There are factors that can increase or decrease the price depending on what you need.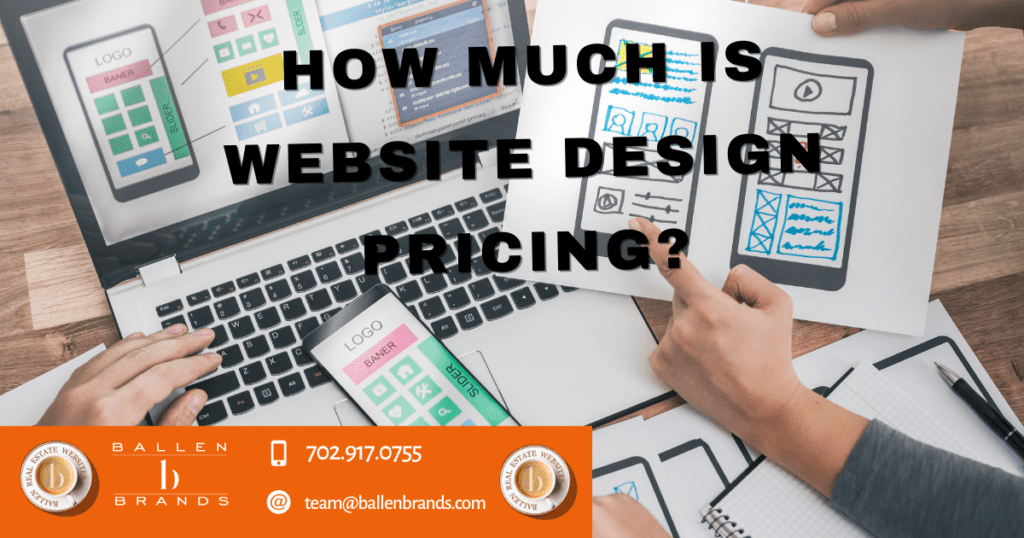 The Basic Costs to Get Started
Whether you're building your website yourself or having a professional web designer take the lead, you'll need to pay for a domain name registration as well as web hosting.
Your domain name is the web address that people will use to find your website. You'll need the domain name registrar (like GoDaddy) to register a unique domain name for you—typically, this costs about $15 per year.
Your hosting is where the information associated with your site lives online. This usually includes server space and bandwidth as well as email addresses for things like order notifications or newsletters sent from an automated system.
For most small businesses, shared hosting plans are all they need at prices ranging from $25-40/month on average, depending on your needs. If you're more tech-savvy, there are plenty of affordable budget options out there if you know how to set up the initial framework yourself using open-source tools such as WordPress.
Some companies offer to do your domain registration for you and provide hosting, so it's important to do a bit of research before starting this first step.
Website Platforms You Can Build on for a DIY Website
Many people are going to want to try to set up their first website on their own as a DIY project because they believe it will save money and give them more control over how the website comes together. Those with no web design experience will likely forfeit the task early on and turn to the pros. But for those who are a little more tech-savvy, there are several web building platforms, both free and paid, that you can choose from:
What Every Good Website Should Have
There are many elements that comprise a successful website. Before you dive into building your digital calling card or interview designers, understand the must-haves in the foundation of the site to make sure they're within your capacity to complete:
Mobile responsiveness: most websites are now viewed on smartphones and tablets more than desktop computers. Your website must be mobile responsive, meaning it automatically adapts to best fit the screen of the device on which it's being viewed.
Fast load times: A website should load in less than three seconds, or the user will likely exit out and move on to a fast-loading site where they can quickly access the information they're searching for. This leads to high bounce rates.
Low bounce rates: this pertains more to the frequency and quality of the content you publish. If your viewers visit, stay, and engage with your content, you'll have low bounce rates; however, if a viewer clicks in and then right back out because of lengthy page load speeds or insufficient content, that leads to a high bounce rate.
User experience: a website should be intuitive and easy to navigate. The goal is a site that allows your viewers to quickly find the right information they're looking for without having to work too hard.
Search engine optimization: SEO is a must for all sites, and it's important to do your research on how search engines like Google work. Blog posts with regularity (and the right keywords) will help you rank higher in searches so users can find you more easily when they're typing their inquiry into an online search bar.
Site Map: like SEO, a site map is another web development best practice that helps search engines—and your viewers—crawl through the information on your website. Since people will be coming to you from all over the place (not just Google), it's important for users who click links in emails or social media posts to get an idea of where they'll end up if they make the jump-off their current page.
If you're not adept at implementing any of the features listed above, as well as a bit of coding knowledge, you'll probably want to outsource the job to a professional web design company. You may find it well worth the price to have your website professionally developed.
What's the Average Cost of Website Design?
A professional website design company will likely start at an average rate of $50 per hour. That means that if your site is simple and doesn't have much going on with it in terms of elements or functionality, you can expect to pay anywhere between $500-$1000 for the complete build-out.
However, there are many variables at play when it comes to figuring out what price you'll end up paying: size, complexity, demand delivery date, etc. For example, a larger business may need more time spent on their project relative to smaller companies due to having multiple stakeholders involved who all want a say in the final product specifications.
The same goes for those who require fast turnaround times because their priority lies elsewhere—meaning they're willing to pay more to have the site up and running in a shorter period of time.
There are four basic types of website design options:
Standard: This is a basic website with an About Us page, a Contact Us page, and a few other elementary pages. Generally, it's the same template used on each website the company produces. For a quick and easy standard website, you can expect to pay around $500.
Semi-Custom: This is a more personalized website with stronger functionality. The basic template will be there, but it may look different than the standard version, and you'll have some options for customization in terms of colors or images used throughout the site. This type of package generally runs between $750-$1000, depending on how many bells and whistles are included.
Custom: In addition to the standard pages, a custom website will have other elements that make it unique and specific for your business or brand. This can include additional images, forms for collecting information from viewers (such as email addresses), a blog page with regular posts, etc. The cost of a custom-built site is typically between $1500-$3000 depending on how much work has to go into creating something new versus using an existing template.
Premium: A premium website design includes all of the features included in both standard and custom sites plus added graphics like video backgrounds, logos, icons, headers, footers, full-page animations/transitions—basically anything you can think of that makes the page look more high-end. The cost of a premium website is somewhere between $7500-$15,000 depending on the breadth of services included in your package.
Different Types of Websites
Another influential factor in the cost of your website's design is the type of website you're building. There are more than ten different kinds of websites, including:
Personal website
Portfolio website
Blog page
Social media site
Nonprofit organization's website.
Classifieds website
The more complex your website features are, the more expensive your website design will be.
Content Sold Separately
Content is what fuels a successful website that has been well built. The content is what Google indexes, ranks, and displays on search engine results pages (SERPS). However, in most cases, content is not included in your website design package and is sold separately.
Some web developers do offer packages with standard content to fill in the basic pages, but it's up to you to produce a steady stream of original, well-written, high-value content to build out your website once it's launched.
Some digital marketing companies include content with their websites or offer content as an additional service.
You can also buy content from places like Constant Content, Crowd Content, Writer Access, and other content brokers. Freelance writers are another option.
When you're figuring the cost to add content to your website, consider a minimum of two cents per word, an average of 12 cents per word, and up for more qualified writers. Just keep in mind that, like any other service, you get what you pay for – and your content has to be top-notch.
Website Maintenance is Another Cost
The investment in your website doesn't stop the day it's launched. In addition to regularly purchasing content, you'll pay monthly maintenance and service fees to keep your website running smoothly.
Maintenance fees are generally between $100-$300/month, depending on the size of your site.
Your website is a living project that requires maintenance and updates to stay current with search engine ranking requirements—not to mention changes in how consumers use the Internet.
How to Find the Right Web Design Company
Research the companies you're considering to discover out how long they've been in business. Check with your local Better Business Bureau and state consumer protection office to learn about any complaints against them.
Ask for references from other businesses who have had work done by that company or firm.
If possible, visit a website powered by their company so you can see what others are saying about its performance, then check on social media/review sites like Yelp, Facebook, Google+, etc., as well as through professional organizations such as Angie's List.
Compare the products, services, and prices of at least three web developers, so you have a point of comparison, a way to gauge the average price for your specific website needs.
Furthermore, with detailed estimates from three separate companies, you may be armed with enough information to negotiate a lower price from the company of your choice.
Qualities to Look for in a Web Designer
The following list shows what you should look for when interviewing potential web developers.
Price: What's included in the price, and how much will it cost beyond that? Consider a website maintenance contract to avoid any surprises after launch.
Project management: Look for an organization with good communication skills, someone who can speak your language, answer questions clearly and thoroughly, and be available during all stages of the project—not just at certain points along the way (i.e., design phase).
Project timelines: How long, on average, does it take the company to complete and launch a website?
Revisions: What's their design process, and how many revisions are included in your project plan?
Follow-up: What happens if a problem arises after launch or upon future updates, maintenance, or changes? Will they be able to meet deadlines and offer customer support services?
Customer service: How available is the company for contact during normal business hours—and on nights/weekends as needed? Do they keep appointments or show up when scheduled without rescheduling at least once first?
Referrals: See if you can get a referral or two from current customers.
Finally, feel free to ask about additional fees—like travel expenses or hardware/software needed during installation—that may not be included in an estimate.
A good website design pricing strategy will include regular content updates as well as monthly maintenance costs that keep SEO rankings high, so consumers continue finding it when searching online for products/services like yours! The initial investment pays off with increased revenue for years ahead following your launch.
Conclusion
With the Internet playing such a major role in so many parts of our lives, it's no wonder website design is big business. Generally speaking, web designers can be divided into three main types—graphics-based (static), programming-based (dynamic), and hybrids that offer both services for greater power and flexibility.
With your company's specific needs in mind, consider the quality/cost relationship when choosing between fixed rates or hourly billing. Look at past experience to determine if you're hiring someone who will deliver what you want within budget constraints – not just today but over time as well.
Learn More about the BREW