Hey, this is Sabrina, Lead Trainer for Ballen Brands. Today I'm going to show you Infusionsoft Sequences inside of campaigns.
Another great Infusionsoft Training from the Team at Ballen Brands.
Schedule A Consultation With Ballen Brands
Rank Like A Boss Courses on Infusionsoft
Transcript
In a previous video, I showed you guys how to add goals in here, and kind of the point of goals. And how you can have them start campaign sequences, move them out of a campaign sequence and into another one.
Or end the sequences entirely. I have two sequences in here.
And in the example, I used before I was having the client fill out a home buyer guide and then I was going to send them an email and; and actually send the multiple emails until they click to download the home buyer guide. Because they registered for it. I want to make sure they read it and get the value out of it .
And then I was going to have another email afterward with another download opportunity for them for something relevant to the home buyer guide. To add a sequence to your campaign, it's in the upper left-hand corner, and it's going to be this sequence option here. You just simply drag and drop it into your campaign here.
Now, if you want to connect a goal to it, you just hover over the goal and you'll get a little green arrow that you can then drag the sequence and same thing from the sequence to another goal. You just hover over the sequence, click on the green arrow and drag it to the goal that you want to end that sequence if the goal is achieved.
Now with a sequence, there's a little flag in the upper or in the lower left corner. And if you click on that it gives you two options. What this says is if the goal is achieved after the sequence you can either have this sequence stopped immediately. Or you can have it continue running until everything in the sequence has been completed.
Now in this situation, I want the sequence to end when they click on the homebuyer guide because each email is going to say, hey I noticed you didn't view your homebuyer guide yet. Here's the link for you, let me know what you think or something like that. And when they click on that link I don't want it to send them those reminders anymore because that means they viewed it.
It's very rare that I ever actually use the runs until completed funny enough. To edit your sequence you're gonna go ahead and double-click on it, and on the left-hand side, you're going to have a wide variety of options to use within your sequence. We'll kind of start from the top and work our way down here.
There are quite a few of these that you'll probably never use, and I'll tell you which ones are kind of the most common. Now, in a sequence where you have timers, delay timers, date timers and field timers. Delay timers basically say, hey wait 30 seconds, wait 1 day, wait 1 week and then do the next step that follows.
A date timer says, hey wait until this date at this time to send the email or do whatever the next action is. And then a field timer actually takes it from a field inside of your Infusionsoft Contact Record. One that we use for example is, birthdays. Birthday is a field that's inside your contact records by default. If you want to send something or have an action go through every time that that person's birthday comes up then you would do it based on a field timer.
It's different for each contact. The date timer is going to be the same for all contacts in the sequence. The field timer is going to be particular to what the field or what the date is inside that contacts record. Those are the big differences between these two. Now with communications here, you have the option to send emails. The email legacy is actually their old email editor.
You don't need to worry about that one, this little yellow guy. Just use the one in the upper left here that says email, you also have a voice option which I actually don't use We use turbo dial and we integrate ours with an API. With this one it looks like you can actually record a message in here they do charge you it looks like 15 cents a minute to send that voice message.
That's up to you whether you want to use that option there. Same thing fax, letter that should be a… it should be a written letter I believe that gets sent. I haven't personally played with that one. But I believe that's a physical letter that they send out, and like I said this email legacy that one is one that you can just ignore. Just use the email one in the upper left here.
Now you have processes, these are going to be very similar to goals except instead of starting stopping or continuing a sequence. These actually apply the action, the goal action. Whatever that is, you can have it apply or remove a tag from the contacts record. Which can then trigger or stop another sequence if that's a goal in another campaign that you have.
You can apply a note to the contacts record, you can create a task on the contacts record for a particular user in your system. You can create an appointment on that contacts record for a particular user in your system. You can change a specific field value and fill out a specific field in the contacts record with certain criteria that you put in here.
You can assign the owner for that contact to a user in your system if you're using opportunities you can have it automatically create an opportunity for a user in your record or in your system for this contact record. Fulfillment list is an e-commerce thing I don't personally play with this, and this is one of those that I said is going to be very rare that you're ever actually using it.
And I do not know why it's taking longer to load. It's probably because I never use it.
Basically delivery options, fulfillment. Yeah, this one's a very rare one like I said most people aren't going to be using it. But it is meant for the e-commerce capability inside your system. Then you have a customer hub integration, so if you use customer hub they do have an integration in here which is nice.
Send HTTP post, this is something that you would use if you're using another third-party program. Like we use Plus This for a lot of our integrations, and same thing with Turbo Dial to send text messages that uses an HTTP post. You may come across this depending on what tools you use. If you don't use any third-party integration tools then chances are you won't be using this section.
There's also action sets that you can set up based on different things that happen in the system. Let's say an order gets declined. You can have an action set that says if it's a declined order then do this or there's action sets for if they click on a certain link you can run an action set to create an order for somebody in your system.
There are different things that action sets can do and that would be a whole nother training video on that. At the bottom, you have start goals, every sequence by default has a start goal. But if you want things to happen at the same time then you may want to do another start goal in here. And then you can have them trigger at the same time, rather than in sequence.
Then you can add notes. Now this has nothing to do with the contact record this is simply inside the campaign, so if you wanted to make a note for yourself, that says, like let's say you're still building the campaign. You could say add a link in the email to the home buyer guide once it has been completed.
Maybe you haven't written it yet, you just created the campaign. These are just notes for you and anybody else who has access to the campaign itself, So, in here I'm going to go ahead and do the mail example that I showed you guys. Just so you can kind of see what this process looks like, so I'm going to say once they fill out the form I want this to wait, let's say 1 minute.
And I want it to run on any day but I don't want it to send in the middle of the night. I want it to send during normal business hours. So, I'm gonna say 8:00 a.m. to 5:00 p.m in the contacts time zone, just by that little box. You have a few different options here, you can say I want it to send it at a specific time between specific times or any time of any day.
For now, I'm just going to leave it like this and hit save. Now what I'm going to do, is I'm going to add an email. I'm just going to drag and drop this in here, now when you're dragging and dropping these; these elements it does create the arrows for you. But if for some reason, it doesn't you have a little green arrow.
If I were to delete this little arrow here, you have a green arrow connecting from one to the other. You just click and drag that arrow to the element that you want it to connect to and it'll reconnect it there for you.
I'm going to double-click on this email, there's going to be a whole nother training on emails, and editing emails and templates and all that for you guys.
I'm just going to choose one just for this example. I've got my email in here I want to include a link just for the purpose of the goal. I'm going to do URL. There's my link, email subject, just testing. Now with each of these elements that you have you want to make sure that you turn these on before you publish them or they will not publish
Once you're done editing everything in here that you want, in the upper right corner there's a little draft button you can click on that to mark it as ready. And then in the upper left corner where it says untitled sequence, you can click on that to go back to your untitled sequence. If you've named your sequence it'll say whatever the name of your; of your sequences is.
But you can always click on that gray link in the upper left corner to go back to where you were. Now I've got my start, my timer and my email here that's really all I need. But I did say that I wanted to send numerous emails, so you can do a couple different things.
You can either drag and drop a new timer and a new email in here or you can drag and drop over both of these elements here.
Right click and duplicate them, and that'll save you time from having to recreate all of these timers and emails. Now this time I'm going to wait 1 day, and I'm going to send it at 8:00 in the
morning in the contacts time zone. This is going to be a reminder email, and see it still has my link in here because it's just a copy.
I'm going to say reminder, just testing and realistically whoops I don't know why it said 3 days, 1 day thank you.I would have numerous emails in here reminding them to open it. If they don't open it 1 day later. I'll maybe wait 2 days, and then maybe I'll do it again and wait a week. I don't want to braid them every day trying to get them to open that email.
But I usually do at least 3 reminders, and then if they haven't clicked on it after 3 reminders then at that point they're probably not going to click on it. They gave you a fake email something but you can keep them going just don't do it every single day. Maybe after a week, I would send it on a monthly basis, hey just making sure you got this Have you registered a month ago or whatever?
Now when you're done with your sequence, you have that same draft option in the upper right corner. Going to go ahead and mark that as ready, and then click on my gray link in the upper left to go back to my campaign. Now just to tie this up a little bit here this email linked clicked I'm just gonna double click on that.
Check off the links in each of these emails because that's the link I want to trigger that goal. And that's pretty much it there. Then you could do the same thing with this sequence to add whatever you want to happen after they click on that link to download that homebuyer guide.
And, yeah that's it. Now with sequences, you can also duplicate an entire sequence. If you want to copy it and; and just change a little bit of the stuff for another download or something like that. You can just right click on it and duplicate that as well. And that's pretty much it if you have any questions on this at all you can always reach us at team@ballenbrands.com.
We are also Infusionsoft Certified Partners. If you need any Infusionsoft campaigns or you want to sign up for Infusionsoft,  You can reach out to us, and we're happy to help with that as well And then if you like this video and want to learn more go ahead and check out our youtube channel at Youtube.com/loriballen and subscribe for updates.
Summary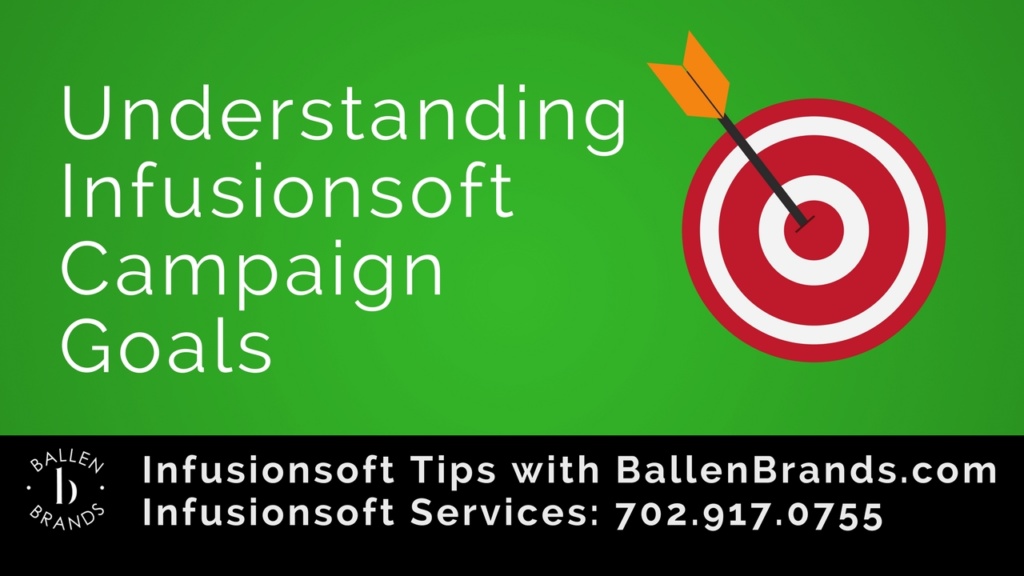 Article Name
Understanding Infusionsoft Campaign Goals
Description
Hey, this is Sabrina, Lead Trainer for Ballen Brands. Today I'm going to show you Infusionsoft Sequences inside of campaigns. Another great Infusionsoft Training from the Team at Ballen Brands.
Author
Publisher Name
Publisher Logo