Hey everybody! Jeff Helvin here with Ballen Brands and a lot of you don't know this about me but I'm actually born and raised in Las Vegas Nevada.
One of the things I never thought I'd see in my lifetime is the buffets shutting down in Las Vegas. We've always been known for our buffets, but it's no doubt that we're an unprecedented time right now.
It's important for us to stay aware of what's going on and be respectful of that, but at the same time it's also important for us to not lose sight and focus of what it is that we're trying to achieve.
One of those things is to be a resource, and right now is a fantastic opportunity for us to be reaching out to our database, for us to be making touches, reaching out people, but not to try to get business.
Related Reading: Infusionsoft Keep In Touch Campaign
I know we're all a little scared right now, afraid of where our next dollar is going to come from, deals falling through, is anybody going to be spending money? We have people losing jobs or being laid off.
There is an opportunity here for us to be human, there's an opportunity for us to make connections and remember that people aren't just a transaction.
What I would urge you to do if you're not already, is to get out there and start touching people. And I don't mean physically, of course, we want to keep our social distancing here, but what I mean is reaching out to people.
Some of us are at home now with our kids while they're out of school as schools have been closed down, but it gives us an opportunity to be human, to be real and to connect and reach out.
Related Reading: Understanding Infusionsoft Campaign Goals
And as we come back from these crisis, if we can be a resource for even just stability – let's not call people and gossip over what we heard and what's next and what we think is going to happen, but let's call people and be a rock for them.
Reach out and say "hey, how's everything going over there" and understand that we're going to hear some fear, we're going to hear some panic, but really just to hold true to our values.
Be a resource and just let them sound off and maybe give ideas of what you're doing to keep your physical activity up. Let's make sure we're sharing at-home workouts, let's make sure that we're encouraging people to just go take a walk, we don't need to touch anything, you just go outside walk around the block just to get some air and remind people that "this too shall pass." This is just a moment in time.
We're here for you at BallenBrands and we understand these are tough times. We have our concerns as well as we're a small business just like a lot of people that we work with, however,
now is the time to connect
now is the time to reach out
take the time that you have at home if you are at home
let's talk about what's next, some marketing ideas things that we want to put in place even if it's not right now because you don't have the funds or you're scared to spend the money
Learn more about these campaigns here
I can tell you those that are going to take advantage of this opportunity and work right now and reach out and make your touches, and that's what I mean by work.
I don't mean trying to close a deal, but I mean actually being available to work and connect and build our sphere. We have a great opportunity right now.
If you don't have a database, if you don't have a CRM, we can put these things in place for you. And if you don't have certain smart plans or campaigns, now is the time to get those in place and set them up.
We are here to help, we do want to work with you and try to find ways to help you earn more and make more right now. Because I can tell you even if we have business right now, we haven't fully felt the effect of what's going on. It could be six-eight weeks from now if we're not lead generating now.
Related Reading: Infusionsoft Has Done it Again with Lead Capture
When I say lead gen, again not connecting with people trying to sell them a house, trying to pitch your services, that type of thing, but really just connecting, that is lead-generating in our world.
People like to buy from people that they like and from people that they know so here's our chance to get more touches, here's our chance to make a connection, have people feel our strength in this time of fear and show that we are here for them and that we will be here for them, and we're ready when they're ready to continue to move on.
Let's all work together. Let's show some compassion. Let's smile a lot. Let's laugh when we can and we can all get through this together!
Contact us at Ballen Brands if you any have questions. Give us a call at 702-917-0755 or email us at team@ballenbrands.com.
Summary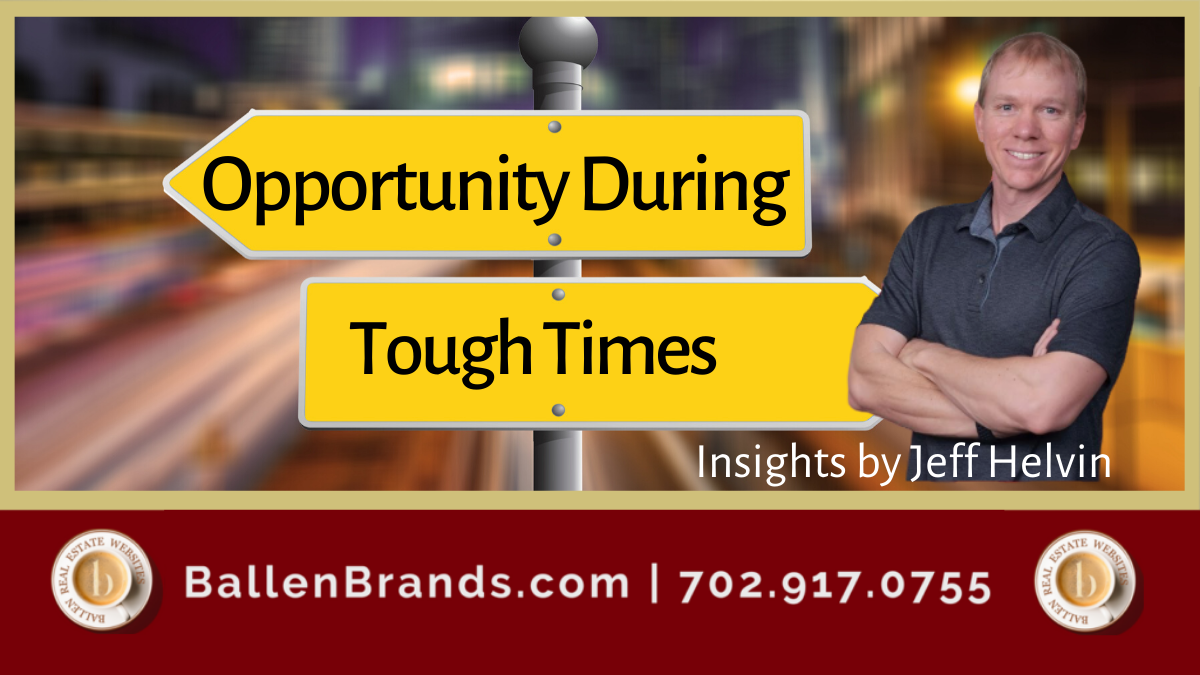 Article Name
Opportunity During Tough Times
Description
Jeff Helvin discusses how to make the most of your opportunities during tough times. It's an opportunity to be human, show compassion, make new connections and further deepen connections you have.
Author
Publisher Name
Publisher Logo